Unlocking the secret to your perfect haircut lies in understanding your unique face shape and choosing a style that highlights your best features. At Eden Hair Energy, your Dickson hair salon, we're not just about giving haircuts, we're about crafting personalised hair masterpieces.
In this article, we explore the interplay between face shapes and hairstyles and provide you with the knowledge you need to confidently choose a haircut that will not only flatter your face but also amplify your personality.
Determining your face shape
The first step to finding a haircut that will best enhance your features is to determine your face shape. To do this, you need to see the full outline of your face clearly. So, pull your hair back from your face and stand in front of a well-lit mirror.
Is your face longer than it is wide? If so, you've likely got an oval-shaped face. If you observe that it's equal length and width, then you may have a square-shaped face. Characteristics of a round face are equal width and length, with a rounded chin and forehead. If your cheekbones are the broadest part of your face, it can indicate you have a diamond face shape. And last, but not least, a wider forehead and pointed chin often imply a heart-shaped face.
This quick analysis should give you a general understanding of your face shape, setting you up to explore which hairstyles might suit you best.
How to choose the perfect haircut for your face shape
Each face shape has certain haircuts that tend to be more flattering. But remember, these aren't rules set in stone, they're just guidelines to help you make the most informed decision. After all, confidence and personal style are the ultimate keys to pulling off any haircut!
The oval odyssey: haircuts for oval faces
An oval face shape typically suits a wide range of hairstyles. From pixie cuts and bobs to long, layered looks, the oval face can often wear it all with panache. However, to keep this balanced face shape in perfect harmony, consider avoiding heavy bangs that cover up and shorten your face. Instead, opt for light, side-swept bangs if you're in the mood for a fringe.
Embrace the angles: haircuts for square faces
The square face shape is typically characterised by a strong jawline and carries many hairstyles well. You can soften the bold angles with long, layered cuts or playful curls. Medium to long lengths work superbly, and wispy bangs can add a gentle touch to the face's natural strength.
In the round: haircuts for round faces
Round faces, with their soft curves, can be beautifully framed by hairstyles that lend a bit of edge and structure. Consider styles that add height and volume at the top, like layered pixies or high-volume waves. Longer styles with face-framing layers that start below the chin can help elongate the face, too.
Heartfelt hairdos: haircuts for heart-shaped faces
Heart-shaped faces are wider at the forehead and narrower at the chin. To beautifully balance out this shape, consider hairstyles that add volume at the bottom and keep the top relatively sleek. Long, side-swept bangs can also help to balance a wider forehead, and medium to long styles usually work best.
Daring diamond: haircuts for diamond faces
Diamond faces, celebrated for their prominent cheekbones and unique structure, shine with balanced hairstyles. Styles with straight bangs, or shoulder-length and longer cuts, complement the face shape nicely. Adding waves or curls can introduce dynamic texture, enhancing the diamond shape's naturally captivating angles.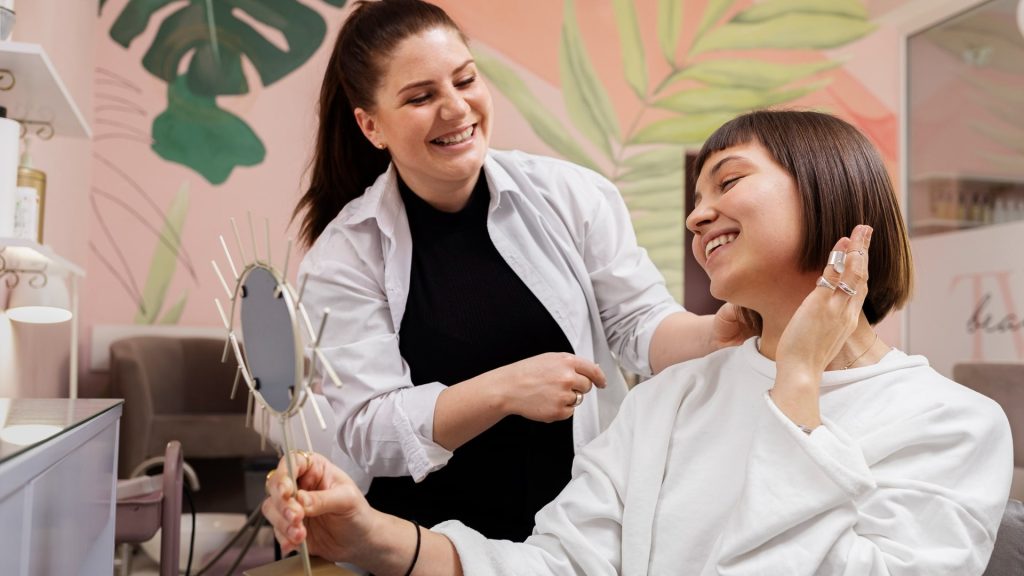 Communicating your desired look to your hair stylist
Your perfect haircut isn't just about understanding your face shape and personal style, it's also about effective communication with your hairdresser. Here are a couple of tips to ensure you and your stylist are on the same page:
Use visuals: Words can be subjective, but pictures paint a clearer picture and make sure we are all on the same page. Bring photos of haircuts you love, and equally important, those you don't. This will give your stylist a better understanding of your aesthetic.
Speak up: Don't hesitate to ask questions or voice concerns. If you're unsure about something your stylist suggests, speak up. It's your hair, and your comfort and satisfaction are paramount.
Remember, a great stylist will listen to your needs, consider your lifestyle and face shape, and work with you to create your ideal look.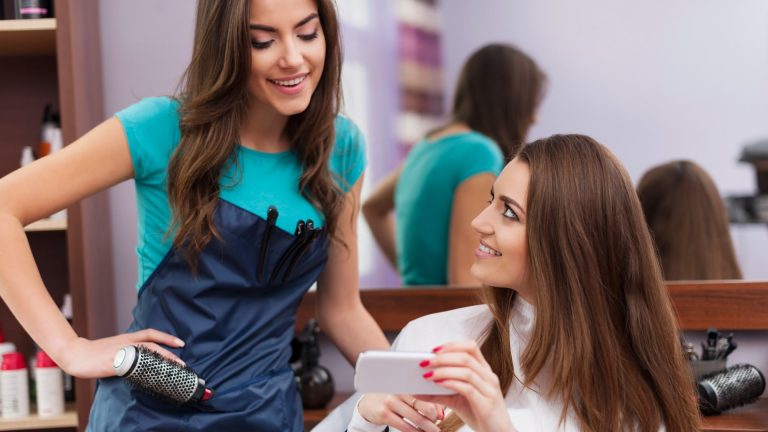 Your perfect haircut awaits at Eden Hair Energy
Now that you're equipped with the knowledge of choosing the best haircut for your face shape and the know-how to communicate your desired look effectively with your stylist, you're ready to embark on your hair transformation journey.
At Eden Hair Energy, we're committed to ensuring that each cut is not just a haircut, but a work of art that enhances your unique beauty. Our expert stylists are here to guide you and create a look that truly represents you. Book an appointment with us today!