Unearthing the hidden treasures of the hair care world is one of the things we at Eden Hair Energy excel at. We're not merely a premium Dickson hair salon; we're your dedicated guide on a journey to hair transformation.
In this article, our focus shifts towards an underappreciated gem: the hair topper. A hair topper is a hairpiece ultimately designed to conceal hair loss or thinning hair. It's usually smaller than a full wig and is worn on the top or crown of the head. 
Below, we aim to shed light on the overlooked marvels of hair toppers and their unique contributions to enhancing one's overall look.
The benefits of hair toppers
Discover how hair toppers can add volume, coverage, and confidence, revolutionising your hair styling experience in ways you never thought possible:
One of the significant benefits of hair toppers is their ability to add volume to thinning or flat hair. If you're struggling with hair thinning, whether due to ageing, health conditions, or stress, a topper can provide instant fullness. The added volume gives your hair a lush and healthy appearance, boosting your self-confidence.
Not only does it rejuvenate your look, but it also allows for hairstyles that need a thicker hair base. Furthermore, it brings back the dimension and depth to your hair that may be lost due to thinning.
Hair toppers excel in offering coverage for various forms of hair loss. They're specifically designed to conceal areas of thinning hair, receding hairlines, or bald patches. Unlike full wigs, they target selective areas, providing coverage exactly where it's needed. This makes hair toppers an ideal choice for those who are in the early stages of hair loss or experience patchy hair loss.
Hair loss or thinning can significantly affect your self-esteem. Hair toppers effectively conceal thinning areas and add volume, and  help restore your confidence. Knowing your hair looks good can make you feel good, enhancing your overall demeanour. As a result, your interactions with others can become more enjoyable and positive.
Also, the psychological comfort of not worrying about hair loss visibility can be a huge relief, helping you focus more on your daily tasks and experiences.
Instant style transformation
Hair toppers aren't just for those experiencing hair thinning or loss. They're also the perfect tool for individuals looking to experiment with different hairstyles without the long-term commitment. If you've been pondering the idea of sporting bangs or a fringe but are hesitant to make the cut, a hair topper can give you that instant style transformation you're after, while still being able to 'un-do' it, if you find it's not for you.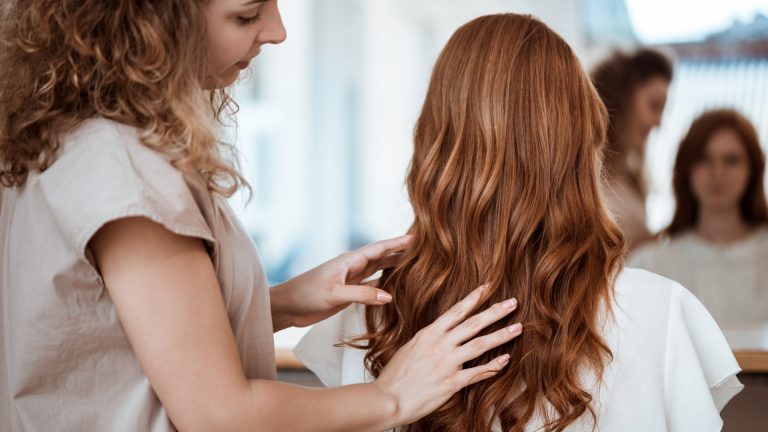 Versatile styling options
Hair toppers allow for versatile styling options. They come in a variety of lengths, colours, and styles, enabling you to experiment with different looks. Whether you prefer straight, wavy, or curly hair, there's a topper to match your preference.
Plus, since they only cover a portion of your head, they integrate more naturally with your hair, giving you more freedom to style your hair as you wish. This allows you to change your hairstyle to match your mood or the occasion. It also opens up a new world of hairstyles that you may have previously felt were unachievable due to your hair's condition.
Hair toppers can act as a protective layer for your natural hair. They shield your hair from elements such as sun, wind, and pollution, which can cause damage over time. By reducing exposure to these elements, hair toppers can help maintain the health of your natural hair, promoting growth and reducing the risk of further hair loss. 
A hair topper is an additional shield that works without you having to put extra effort into your daily hair care routine.
When it comes to covering up unsightly regrowth between colouring appointments, hair toppers truly shine. They serve as a strategic solution, effectively prolonging the period between your visits to the salon, and offering you a fresh, well-groomed appearance without the constant need for touch-ups. 
This transforms a hair topper from being merely a tool for managing hair loss or thinning, into a multifaceted style asset.
At Eden Hair Energy, we're proud to present our new collaboration with Gold Hair Collection, offering our clients an exquisite array of Remy 100% Human Hair Toppers. These hand-crafted pieces are designed to effortlessly blend with your natural hair and are perfect for those seeking to add volume or conceal thinning areas.
Our range of Gold Hair Collection toppers can be coloured, cut, and styled to fit your look perfectly, and with proper care, they can last several years. Alongside these toppers, we provide mannequin heads and stands, brushes, and other essentials to facilitate your at-home care and styling.
To explore our selection of hair toppers, we recommend booking a consultation with one of our experienced stylists at our hair salon in Dickson, during which they'll assess your hair, discuss the suitability of a hair topper for you, and let you try some of our exquisite pieces.