As the saying goes, 'Blondes have more fun!', but keeping those golden locks gleaming isn't always a walk in the park. Blonde hair, while undeniably fabulous, often throws a few curveballs our way. From unwelcome brassiness to the occasional dry spell, the challenges of blonde hair maintenance are all too familiar.

At Eden Hair Energy, we have unmatched expertise in hair care and a special passion for blonde hair. In this article, we share some top tips to help you keep your blonde bombshell status intact!
Understanding Your Blonde Hair
Whether you're naturally blonde or have switched to the light side through a transformative colouring session, light-coloured locks can demand a bit of extra TLC when compared to dark hair.
Blonde tresses are often more susceptible to environmental factors, with elements like sun exposure and chlorine making them prone to turning brassy. This is mainly because of the lower levels of melanin, which can allow unwanted yellow or orange tones to creep in.
Coloured blonde hair goes through a chemical process that alters its structure, sometimes leaving it more porous and in need of nourishment. This is where a dedicated maintenance routine comes in, helping you prevent dry hair and make that salon-fresh vibrancy last as long as possible.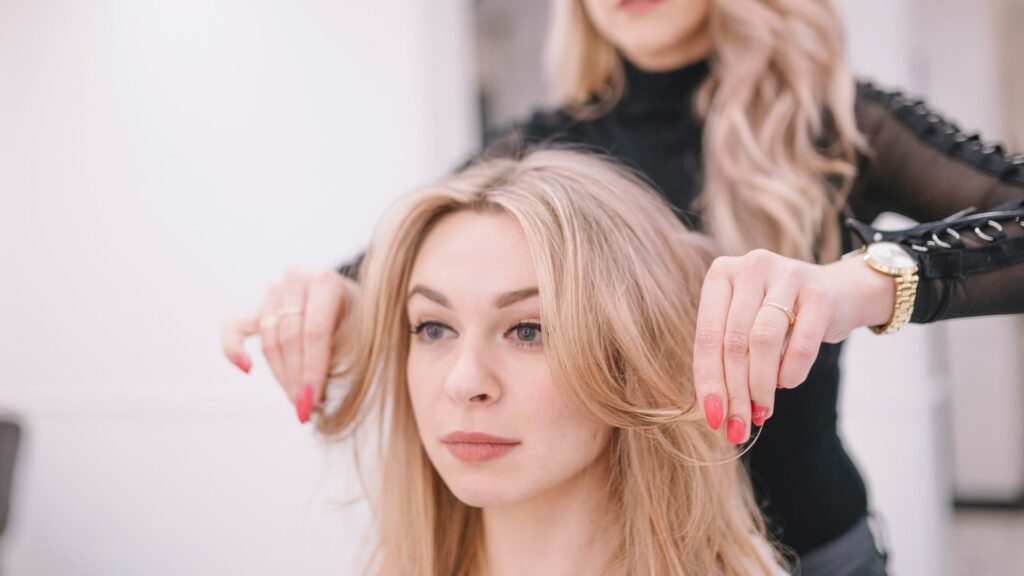 6 tips for blonde hair maintenance
Below, you can explore some of the best ways to keep your blonde hair bright and happy:
1. Use the right shampoo and conditioner
A bright blonde mane starts with the basics – the right shampoo and conditioner. It's not just about picking up any product off the supermarket shelf, but choosing salon-quality products, just like the array we have stocked at Eden Hair Energy. These products are professionally designed to lovingly cleanse your hair without stripping away the natural oils and moisture, ensuring a healthier and shinier look.
Now, let's talk about the magic of purple shampoo, a must-have in your blonde hair care regime. The purple pigments in the shampoo work to counteract the yellow and brassy tones that can develop over time, leaving your hair with a cooler, brighter blonde tone. We recommend indulging in a purple shampoo ritual once a week, which acts like a mini-makeover for your blonde tresses, maintaining that perfect, clean blonde hue.
2. Embrace deep conditioning treatments
To protect and nourish your blonde locks, deep conditioning treatments are your golden ticket. These hydrating saviours play a significant role in sustaining each strand, leaving you with a silky, soft texture. And the goodness doesn't end there! A deep conditioning treatment is your trusty ally in the battle against frizz and dryness, a common complaint among blonde enthusiasts.
We recommend incorporating a weekly at-home hydrating hair mask into your hair care routine. They're a fantastic way to give your blonde hair a little extra love between salon visits. For a truly revitalising experience, the hair health treatments at our Dickson hair salon allow you to indulge in a spa-like retreat for your locks, rejuvenating them from root to tip.
3. Protect your hair from the sun
While we mostly adore the abundance of sunshine in our part of the world, our blonde hair might have a different opinion. Sun exposure can transform vibrant blonde locks into dull and parched tresses. Add a dip in the pool to your sunny escapades, and you've got yourself a potent cocktail for hair woes.
The good news is that protecting your hair from the sun is easier than you think. A splash of a sun-protective product specially formulated for hair can act as a shield, keeping those harsh rays at bay. And then there are stylish hats and scarves, which add an extra layer of protection, all while keeping you looking chic.
A blonde's journey to ravishing locks is never complete without regular trims. Trimming those ends periodically helps prevent split ends and breakage, encouraging healthy growth. Moreover, a fresh trim gives your hair a renewed vigour.
So, how often should you book in for a haircut at Eden Hair Energy? We recommend a visit every 6-8 weeks to keep your blonde hair looking fresh and gorgeous.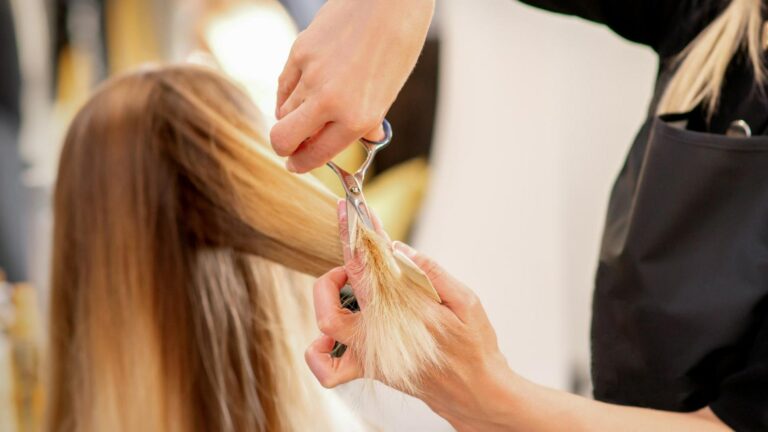 We get it, styling is fun, especially when you have brilliant blonde hair that adds that extra oomph to every look. However, it's crucial not to get carried away with over-styling, as blonde hair can be particularly prone to dryness and damage.
If you have to use styling tools, embrace lower heat settings and arm yourself with a quality heat protectant spray to protect your golden locks from the rigours of styling.
It's also a great opportunity to discover creative, heat-free styles. Imagine chic braids or a sassy bun that requires no heat yet makes a statement.
6. Be Particular about colouring products
A word to the wise from our expert stylists: always enquire about the colour range being used during your salon visits. It's a golden rule that can drastically enhance the vibrancy and health of your blonde locks.
At Eden Hair Energy, we're particular about offering only the finest to our clients, which is why we proudly use and recommend the Paul Mitchell colour range. Renowned for being gentle on hair and respectful to our planet, it promises astounding, lasting blonde results that are simply unparalleled. So, here's to achieving that picture-perfect blonde hue, with a touch of kindness to Mother Earth.
Your brightest blonde awaits at Eden Hair Energy
Keeping those golden tresses bright, radiant, and healthy is no mere coincidence. It's an art that combines the right products, a touch of pampering, and professional expertise, a combination we celebrate and uphold at Eden Hair Energy.
Using quality shampoos and conditioners, indulging in hydrating treatments, protecting your locks from the sun, and getting regular trims are some of the best things you can do to maintain blonde hair.
Ready to step up your blonde game? Whether you're looking to transform from dark hair to blonde hair or preserve the lustre of your existing golden locks, Eden Hair Energy is here to help. Situated in the heart of Dickson, we're the go-to destination for achieving and maintaining the blonde hue of your dreams.
Book an appointment today!