Hair extensions are becoming increasingly popular with more and more people turning to them to achieve their dream hair. Whether you want to add length, volume or colour to your natural hair, hair extensions can be a versatile and effective solution. With several types of hair extensions available, it can be tricky to know which type is most suitable for you.
Canberra Hair Extensions, sister salon to Eden Hair Energy and also located at DKSN, focuses on the three most popular types of hair extensions: keratin bonds, beaded weft and tape extensions. In this article, we discuss these three varieties of hair extensions, including their pros and cons, and share what you can expect to achieve out of a hair extensions consultation at our Canberra hair salon.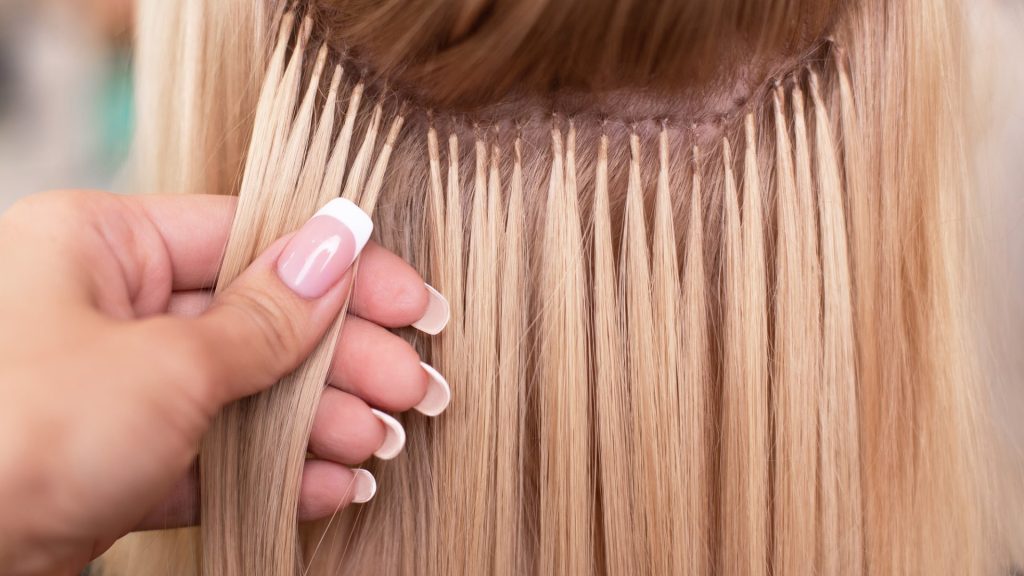 Below, you can explore the unique features, benefits and drawbacks of keratin bonds, beaded weft and tape hair extensions:
Keratin bonds are a type of individual permanent hair extension that involves attaching small bunches of strands of hair to your natural hair with a keratin adhesive. We melt the keratin with a special tool and then roll it around your natural hair to create a secure bond. The process can take several hours depending on the amount of hair you want to add, and the extensions can last up to six months with proper care.
Pros:
Keratin bond extensions provide a natural look, as the bonds are virtually undetectable.
They are comfortable to wear and don't put any strain on your own hair.
Keratin bonds can last for four to six months without adjustment.
You can style keratin bonds just like your natural hair, and wear your hair up or down easily.
There's a huge colour selection for you to choose from.
Cons:
The installation process can be time-consuming and requires an experienced stylist.
They can be slightly more expensive than other kinds of hair extensions as they're single use (though you can save money by not requiring an adjustment every six to eight weeks, as with other types of extensions).
Beaded weft extensions involve attaching a weft of hair to your own hair using small, silicone-lined beads. We clamp a small section of your own hair and the extension hair in the bead to gently attach using no chemicals. Generally, we can apply beaded weft extensions in a matter of hours and they can last up to three months with proper care.
Pros:
Beaded weft extensions create a beautiful, natural effect, as they fall in the same as your natural hair.
They're attached using a bead, so don't require heat or chemicals, making them one of the gentlest types of extensions.
Beaded weft extensions look exceptionally natural and you can style them in various ways, including braids and updos.
This type of hair extension allows us to create perfect colour blends.
Cons:
The wefts may feel uncomfortable or heavy for the first few days.
They can require more maintenance than other types of hair extensions, as the beads may need to be tightened periodically.
Beaded weft extensions may not be suitable for you if you have thin or fine hair, as the beads can sometimes be visible (especially when wearing your hair up).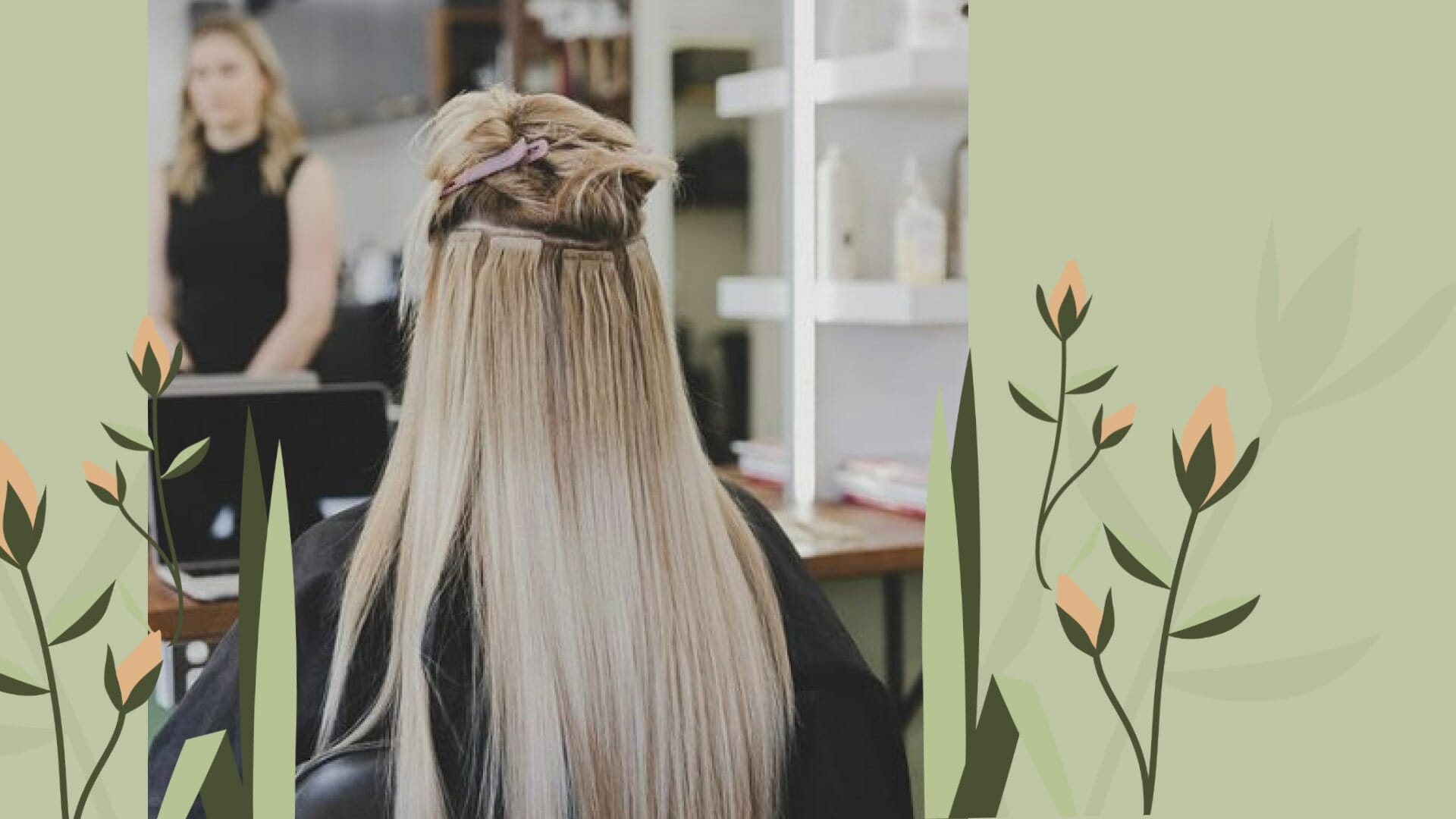 Tape-in hair extensions are a popular option for those seeking a semi-permanent hair extension solution. These extensions are made of thin strips of hair which are attached to your own hair using medical-grade adhesive tape. The application process typically takes a few hours depending on the amount of hair you want to add. Once applied, the extensions generally last up to eight weeks before they require reinstallation.
Pros:
Tape extensions are great for those with thick hair, as we can install lots of them at once.
They provide a natural-looking finish and you can style them in various ways.
There's a huge colour selection of tape extensions available.
Cons:
Tape extensions can require frequent maintenance, as the tape may slip or loosen over time.
As these hair extensions attach to your hair with adhesive, they can leave a residue behind after removal.
Caution needs to be taken when styling, as heat applied on or too close to the tape attachment can cause the adhesive to melt.
Not sure which type is right for you?
If you're still unsure which type is best for you, don't worry! Our expert team of stylists at Canberra Hair Extensions, is here to help you with a comprehensive hair extensions consultation. Having a consultation before committing to a type of hair extension is crucial for several reasons:
A consultation at our Canberra hair salon gives you the opportunity to discuss your desired look with a professional stylist and determine which kind of hair extensions will work best for your hair type, lifestyle, and budget.
During your consultation, your stylist can assess the condition of your natural hair and determine if it's strong and healthy enough to support hair extensions without causing long-term damage.
A hair extensions consultation provides you with the perfect opportunity to ask questions you may have and to learn about the maintenance and care required for your chosen extensions.
Overall, a consultation ensures you're fully informed and prepared before getting hair extensions, leading to a better and more satisfying result.
Hair extensions in Dickson
Hair extensions are a fantastic solution for anyone looking to add length, volume, or colour to their hair. From individual keratin bond extensions to semi-permanent tape and beaded weft extensions, there is a range of options available to suit your unique needs and preferences. 
It's important to remember that getting hair extensions requires careful consideration and professional consultation to ensure that you get the best possible outcome. At Eden Hair Energy and Canberra Hair Extensions, our experienced and skilled stylists are dedicated to providing you with high-quality, customised hair extension services that cater to your individual needs.
So, whether you're looking for a subtle change or a dramatic transformation, we're here to help you. Book a consultation with us today, and let us help you take the first step towards your perfect hair.