Winter is the season when we crank up our heaters and find comfort in spending more time indoors. However, this cosy lifestyle comes with a downside. Prolonged exposure to indoor heating and harsh cold winds outside can be detrimental to your hair, leaving it devoid of moisture and transforming it into a dry, frizzy mess that's difficult to tame, even on the best of days. But fear not! With a little extra care and the right products, you can keep your locks looking fabulous all winter long.
In this article, the team at Eden Hair Energy has your winter hair care covered with some pro tips and tricks to help you level up your hair health game this chilly season.
During the winter months, the cold air outside and the dry, heated air indoors can strip your hair of its natural moisture, causing lots of flyaways and frizzy hair. The key to tackling this issue lies in boosting your hair's hydration. Choosing the right moisturising hair products, like the Kevin Murphy Hydrate Me range, can make a significant difference. The Hydrate Me Shampoo and Conditioner quenches your hair's thirst during your regular wash routine, providing a solid foundation for healthier, winter-proof hair.
As temperatures drop, your hair might need extra help, and that's where the Hydrate Me Masque and Leave-in Treatment step in. By adding these potent hydrators to your hair care routine, you're truly elevating your at-home hair routine this winter. Try using the Masque weekly for an intense moisture surge and apply the Leave-in Treatment after each wash to protect and moisturise your hair's ends. Following this moisture-packed regimen will leave your hair thanking you this winter!
Opt for less frequent hair washes
If you have a habit of washing your hair daily, winter is a great time to think about changing this! Excessive hair washing, regardless of your hair type, can reduce the essential oils in your hair, which are needed to keep it moisturised, especially in the cooler months.
To show your hair some love this winter, attempt to lengthen the intervals between your hair washes. For example, if you typically wash your hair every other day, experiment with washing it every two days. If you notice that your hair still lacks moisture, consider stretching it to every three days. You can rely on a little dry shampoo if need be, to help see you through the transition.
Avoid leaving home with wet hair
While it may be tempting to rush out the door with wet hair during the busy morning hours, it's crucial to take the time to dry your hair during winter. Leaving hair wet and putting it up can make your strands more susceptible to breakage and accelerating colour fade. To protect your hair, allow it some extra air-drying time before you step out into the winter cold.
Better still, consider altering your hair care schedule to wash and tend to your hair at night. This change could spare your locks from morning rush hour blow drying, reducing heat exposure. However, if circumstances necessitate leaving home with damp hair, ensure you guard it from the harsh winter elements. Tuck your hair under a scarf or hat to lessen its direct contact with the winter chill. Remember, the less your hair is exposed to harsh winter conditions, the healthier it will be.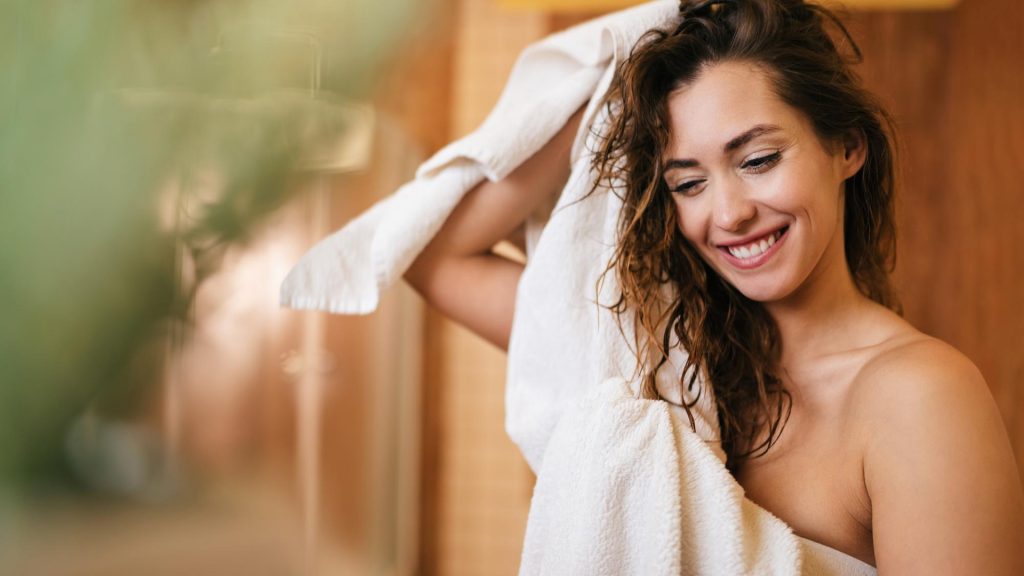 Take a heat styling detox and always use heat protection
Heat styling is well-known for its damaging effects on hair, particularly when your locks are already vulnerable because of the cold weather. This type of hair styling just exacerbates the issue, sapping the much-needed moisture from your hair strands. A healthier alternative during winter is to embrace your hair's natural texture. Where you can, opt for air drying rather than using a hair dryer, and add a few drops of hair oil to manage any frizz.
If you do heat style your hair, make sure to always layer products by beginning with a leave-in moisturiser like Olaplex number 6 and then a heat protector like the Color WOW Dreamcoat. Finish with a serum to lock in moisture and additional help to tame frizz. 
Use the colder months as a chance to try out new styles such as twists, buns, and ponytails? These style choices not only help reduce the chances of you having dry hair but also give you a fun, creative break from your usual routine.
Maintain optimal hydration
Maintaining optimal hydration is often overlooked, but it's incredibly important for hair health, especially during winter. The frigid temperatures and dry indoor heat can strip your hair of its natural moisture, making it dry, dull, and more susceptible to breakage. Staying well-hydrated by drinking plenty of water is a simple yet effective strategy that can help combat this issue.
When you keep your body hydrated, it allows for better circulation and nutrient supply to your hair follicles, thereby promoting hair health and growth and minimising the risk of having dry hair. Additionally, water serves as a natural moisturiser that enhances the overall strength and shine of your hair. So, in the winter months, remember to up your water intake alongside your at-home hair routine to ensure that your locks remain vibrant, healthy, and well-moisturised from the inside out.
Give your hair a winter treat at Eden Hair Energy
As winter rolls around, why not consider treating your hair (and yourself) to some pampering at Eden Hair Energy? Our Dickson hair salon offers a range of services that can help keep your hair healthy during the cold months, for example, a trim. Keeping up with regular trims throughout winter helps to eliminate split ends, promoting healthier and more vibrant hair.
But the pampering doesn't stop there. At Eden Hair Energy, we also offer intense hydration treatments designed to combat the harsh effects of winter. These treatments infuse your hair with moisture, nourishing it from root to tip. After this luxurious, deep conditioning session, your hair is left feeling soft, smooth, and utterly revitalised.
So, don't let the winter blues get to your hair. Book an appointment at Canberra's favourite hair salon and give your hair the winter loving it deserves.