At Eden Hair Energy, we understand that it can be tempting to colour or cut your hair at home yourself during lockdown. In our previous blog post, we covered why we don't recommend colouring your hair yourself at home. So, we only thought it fair that in this blog post, we cover things you can do to your hair during lockdown! 
What's more, if you see something here you may like to try, all products we mention are available at Eden Hair Energy or Canberra Hair Extensions for purchase and can be posted to you during lockdown! You can find our contact details below! 
1. Blend in regrowth with Colour Wow regrowth powder
We get how horrible seeing your regrowth and greys can be in those dreaded daily Teams meetings, as well as having to look at yourself all day – it can get a bit much. As we head further into lockdown and face the prospect of many continuing to work like this beyond the end of lockdown, regrowth is something you don't want to be dealing with. So, what to do? Colour Wow has created these AWESOME regrowth blending powders that work a treat! 
Some things to love about Colour Wow regrowth powder: 
It's a compact mineral powder
You can blend in regrowth easily by using the applicator brush that comes with it – plus it has a bonus compact mirror
It can also be used to fill in thinning hairlines
It's water-resistant 
It comes in 8 shades (can be used to blend in highlights or lighter shades as well as darker colours)
Formulated without waxes or dyes
Colour Wow fits conveniently in your bag for when we can be 'on the go' again
It has a natural, light-reflective finish that is not sticky, oily or drying
2. Use a colour shampoo or treatment 
As you may already know, we don't recommend using any activated colours at home. However, that doesn't mean you can't have a little fun! 
De Lorenzo has a great range of colour shampoos, and while they aren't the exact same as an in-salon colour, there is no risk of ruining your hair as the colour is temporary and makes no permanent changes to your hair. These colour shampoos work better on hair that is light brown to blonde but some of the darker shades like purple or red can put a lovely shine and tone onto a brunette colour. 
They tend to last a couple of washes, but for a more dramatic result can be used continuously to build the colour up more. Always been a blonde? Why not try copper!? To get your colour back to its normal state, swap back to your regular shampoo about a fortnight before your next salon visit.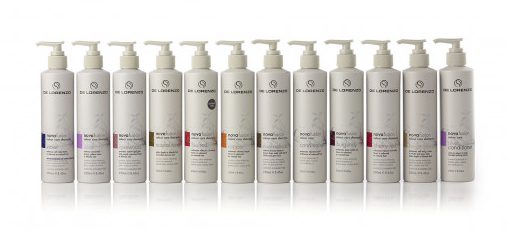 3. Style your hair like you're going out 
You know that fresh salon feeling when your hair is styled and you feel on top of the world? Yes, a lot of it is the fresh colour or cut you've just had, but a lot of it is also the styling. When your hair is washed and clean and you've spent the time blow drying it and perhaps styling it with the straightener to add a few curls or enhancing a poker straight look, every colour looks better – with or without regrowth. 
Take a little extra time in the morning to practice some self-care and style your hair. We guarantee your day will be brighter! Just remember to use a heat protector when heat styling, as heat can be more damaging to hair than bleach if not used carefully! 
(Psssst….heat protector purchases get shipped out to you with a free gift!)
4. Learn to braid your hair 
Always wanted to learn to braid like Elsa? Lockdown is the perfect time to get your braiding skills on point to have something new to jazz up your look when you head back to the office. 
Braids are a great way to look after your hair as they require no heat styling and protect it from the elements while keeping it out of your face. Braids can also be a great way to blend in a haircut you're growing out! 
There are plenty of videos on Youtube and Instagram these days. Just set yourself up, take a seat and get practising. 
5. Utilise your lockdown time with super hair rebuilding/repairing treatments 
Lockdown is the perfect time to put your hair into rehab… or PRE-hab, prepping it for the ultimate transformation when lockdown is over!
If you're thinking of a big transformation when you're able to get to the salon again, the best thing you can do to prepare your hair is to use a professional shampoo. A professional shampoo helps to remove any build-up that may have formed on your hair over the years, in conjunction with a Plex or Peptide treatment – such as the Olaplex range, Vitaplex or K18. 
All of these treatments work on a similar premise of repairing and replacing damaged 'bonds' on the inside of the hair. This means that the quality of the hair is better so that when a colour or lightening service is done, the result can be enhanced and your hair will not be as damaged by the process. 
6. Wrapping Up
So hopefully now you have some fun ideas of things that can help you and your hair survive lockdown 2021. If you would like to know about anything else, have a burning question, or would like to purchase any of the products mentioned in this article, email us at [email protected] – we would love to hear from you!